Rubber is used in the manufacture of countless parts and products. Given the many rubber materials available, manufacturers can choose a variation that suits their exact part and production needs, ensuring the finished component operates and performs as intended. However, the broad selection can also make it difficult to select the right material. It is important to carefully evaluate the unique characteristics of each rubber option to ensure you choose the one that is best suited for your
requirements and restrictions.
Two of the most commonly utilized rubber materials are ethylene propylene diene monomer (EPDM) rubber and silicone rubber. Below, we highlight the characteristics of each material to help you determine which—if any—of the materials are suitable for your application.
Overview of EPDM Rubber
Click to Expand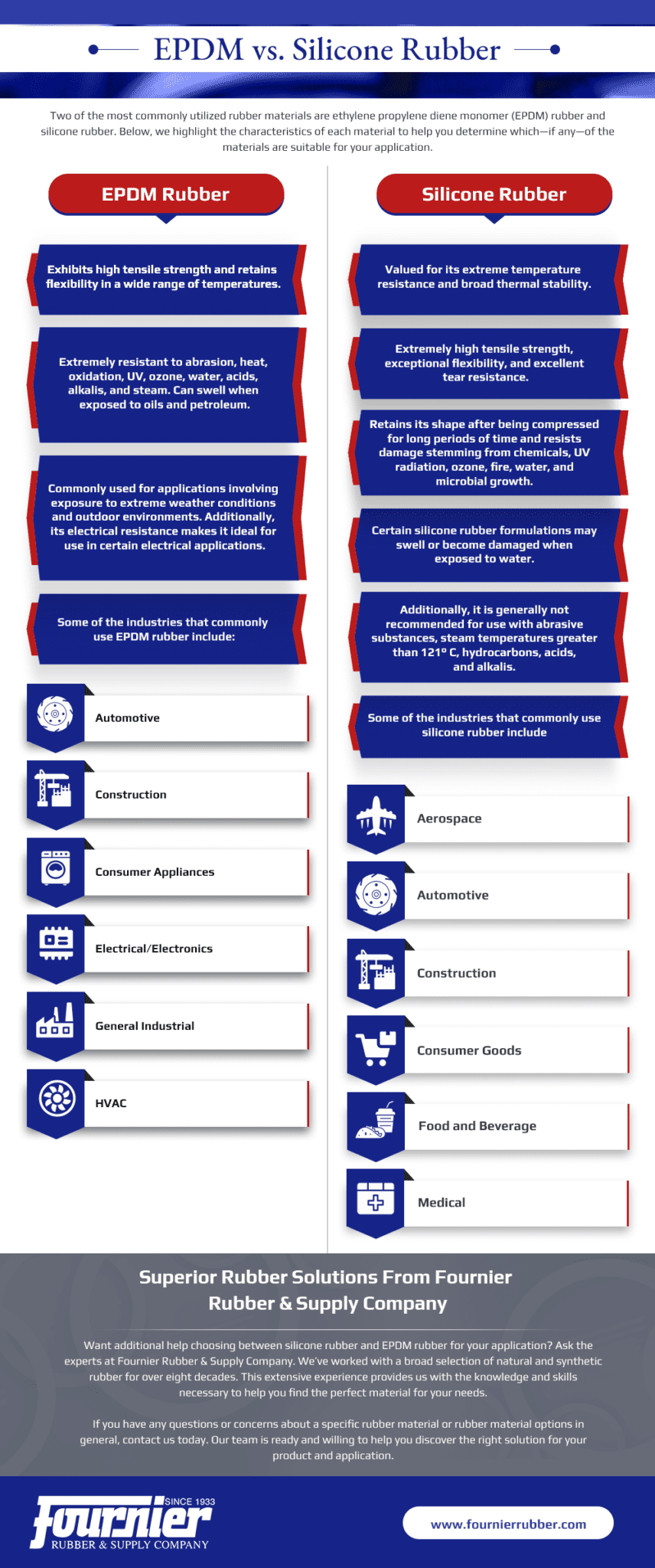 Ethylene propylene diene monomer (EPDM) rubber is a synthetic rubber. It exhibits high tensile strength and retains flexibility in a wide range of temperatures (between -40° C and +130° C). Additionally, it is extremely resistant to abrasion, heat, oxidation, UV, ozone, water, acids, alkalis, and steam. However, it can swell when exposed to oils and petroleum.
Due to its excellent durability, EPDM is commonly used for applications involving exposure to extreme weather conditions and outdoor environments (e.g., construction and roofing). Additionally, its electrical resistance makes it ideal for use in certain electrical applications.
Some of the industries that commonly use EPDM rubber include:
Automotive
Construction
Consumer appliances
Electrical/electronics
General industrial
HVAC
Overview of Silicone Rubber
Silicone rubber is a polymer consisting of carbon, hydrogen, oxygen, and silicone. It is valued for its extreme temperature resistance and broad thermal stability (-60° C and +230° C). It also has extremely high tensile strength, exceptional flexibility, and excellent tear resistance. It can also retain its shape after being compressed for long periods of time and resist damage stemming from chemicals, UV radiation, ozone, fire, water, and microbial growth.
The durability of silicone makes the material ideal for a wide variety of industrial applications. Its formulation can also be easily modified to suit specific needs. For example, food-grade silicone materials are available for use in food and beverage industry applications. However, it is important to note that certain silicone rubber formulations may swell or become damaged when exposed to water. Additionally, it is generally not recommended for use with abrasive substances, steam temperatures
greater than 121° C, hydrocarbons, acids, and alkalis.
Some of the industries that commonly use silicone rubber include:
Aerospace
Automotive
Construction
Consumer goods
Food and beverage
Medical
Superior Rubber Solutions From Fournier Rubber & Supply Company
Want additional help choosing between silicone rubber and EPDM rubber for your application? Ask the experts at Fournier Rubber & Supply Company. We've worked with a broad selection of natural and synthetic rubber for over eight decades. This extensive experience provides us with the knowledge and skills necessary to help you find the perfect material for your needs.
If you have any questions or concerns about a specific rubber material or rubber material options in general, contact us today. Our team is ready and willing to help you discover the right solution for your product and application.